BOSS REQUIREMENTS GUIDE
Last Edited: 04/01/2022
You can upgrade the following pets by right-clicking the pet then choosing -Upgrade- option
Vasa Nistirio
Requires 25,000 Satan Killcount!
You can find Vasa on the Boss Teleports page along with a second room by using the command ::vasa2 once you have 25,000 Satan KC!
Lucifer
Requires the sacrifice of 10m Upgrade Tokens, Rage Cape, x2 Collector Necklace II and x2 Collector Ring II
Once you have unlocked the teleport to "Mini Lucifer" which you need 5,000 killcount of to reach the boss Lucifer!
Dark Supreme
Requires to sacrifice a Light Weapon Set (Light Twisted Bow, Light Sanguinesti Staff and a Light Scythe of Vitur)
Blood Odin
Requires 10,000 Dark Supreme Killcount
Mega Avatar
Requires 250,000 NPC Killcount
Isle of the Gods
There is three difficulties of the Isle of the Gods
Easy requires 10,000 Blood odin kills to access
Medium requires 100 Easy kill count
Hard requires 200 Medium kill count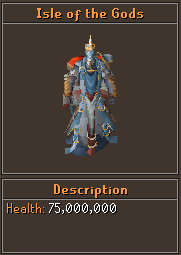 Assassins Guild
Minigame that requires 50k Bork kc and a sacrifice of 3 Light weapons to enter
After entering the Assassins guild you have to progress through the tiers
To progress to Tier 2 you must kill 50k Faceless assassins and sacrifice 2 Dark weapons
To progress to Tier 3 you must kill 100k Lotus warriors and sacrifice a Blood weapon
To progress to an Assassin Master you must kill 150k Shadow Hunters and sacrifice 250m Upgrade tokens
After completing Tier 3 you become an Assassin master and acquire an Assassin costume